DESCRIPTION
EACH PIECE IS MADE TO ORDER, HAND PAINTED BY GLORIA AND HER TEAM IN THEIR NYC STUDIO
PRODUCT DESCRIPTION
Lace and denim jacket.

Assorted sized pink palms trees with white outline painted throughout.

Collar and front pockets painted pink.
Signed @wrenandglory.
Due to each piece being hand painted, each jacket might have slight differences
FIT
Light weight denim jacket, with lace out outs.
Super soft and comfortable denim.
Runs a bit on the smaller side, so we recommend sizing up.
MEASUREMENTS: 

Small - Length 58cm, Bust 128cm, Shoulder 52cm, Sleeve Length 57cm
Medium - Length 59cm, Bust 130cm, Shoulder 53cm, Sleeve Length 58cm
Large - Length 60cm, Bust 132cm, Shoulder 54cm, Sleeve Length 59cm
X Large - Length 61cm, Bust 134cm, Shoulder 55cm, Sleeve Length 56cm

Model is 5'4, and about 105 lbs, wears Medium
DESIGNER'S NOTES
Subtle design, on super soft and comfortable denim, will have you wearing this one with everything, plus it's perfect for the warmer months!
DENIM, COTTON AND CANVAS:

We recommend spot cleaning when possible. To wash the full piece, simply put in the machine, inside out, and hang dry.

LEATHER:

We recommend taking your leather pieces to dry cleaners, like you would with any other leather clothing.

SHIPPING

We offer free US Shipping on all orders. International order shipping charges will be calculated at checkout. All orders are shipped via FedEx.

We include the cost of taxes and duties with shipping at checkout, so you won't need to pay any additional fees later on.

We also give you the option to just pay shipping up front for international orders, but you will be responsible to instead pay any duties and taxes directly to our carrier to release your order from customs. If you choose this option and refuse your package, we will charge a 20% restocking fee.

RETURNS

In the US, we accept easy returns and exchanges within 14 days of delivery, as long as the piece was not personally customized. Pieces must be in original condition and unworn. Simply follow our 'Return' link to begin your retrun.

We do not offer free return or exchange shipping from international locations. Please email support@wrenglory.com to begin your International return. We will accept international returns and issue a refund once we receive those goods.


Customer Reviews
Write a Review
Ask a Question
Filter Reviews:
palm trees
Pink Palms
ages
most
staff
case
wait
room
Renee
dresses
02/16/2022
Lacinda F.

United States
Pink palms denim jacket
Wonderful! The jacket is amazing. Love it!
06/16/2021
Vegas V.

United States
Pink Palms Jacket - lacy and sweet with popping pink palms
This is the third jacket that I have ordered and loved from W+G! Their merchandise does not have a time/age factor - although it seems that most of the advertising is aimed at a younger crowd of consumers - they are really for all ages! I was waiting for this one and it was worth the wait! It is extremely hot this week, even with lace inserts and sleeves I cannot wear it in 114-115F. Yup - that is what is happening in the Mojave Desert/Las Vegas! However, when you enter an establishment or a cinema - the a/c blasts an Aartic one, and this I will wear there. It made me smile - the hot pink palms are delicious! The use of the lace to air cool the jacket is really done right - spot on! The fit is TTS - not really over-sized in cut, so, like I generally do, I ordered the XL to get more room for later in the cooler months, wear it with layers. Right now, I am going to simply wear it with either a hot pink tank or an optic white one with denim shorts - or - wear one of my many white dresses and have this jacket spark up the look. Simply, the passion of the pink palms is amazing and so is this company. They really help when you order something - the initials are monogrammed for free, making it uniquely yours. Personally, I dislike palm trees (yes!) because they are messy and cost a lot to maintain each year..but - they are here in the desert - funny - I always imagined them better in the tropics...in any case - I would have liked to see one pink flamingo on it, too - just a thought - and, in the cool months - imagine palms with snow upon them - a few years or so back, we did have that happen - the palm fronds were laden with snow - can you imagine that look on a jacket - well, I am getting away from the design itself - love it - I should have ordered it from the day of the drop to hve had more wearable time..but it is a classic look that will wow you and receive many compliments - go for the PINK! Love this look! BTW - the staff - including Kristin who handles the correspondence and follows through personally is on my A+++++ list! She makes ordering a lot easier than guessing about a product. Thanks again, Renee and Gloria, too!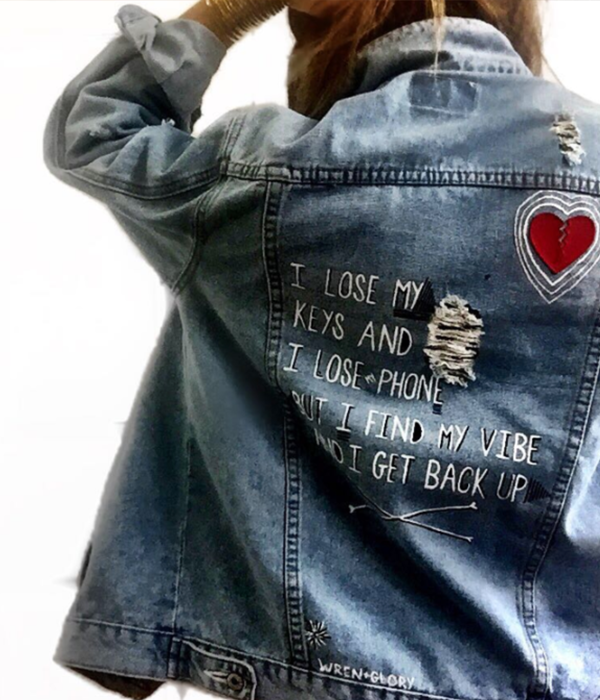 Designed for You!
At Wren + Glory, art is fashion. Each piece is:
designed with YOU in mind. 
unique to your style, your voice, your message, your personality, your passions.
a canvas to stand out in this noisy world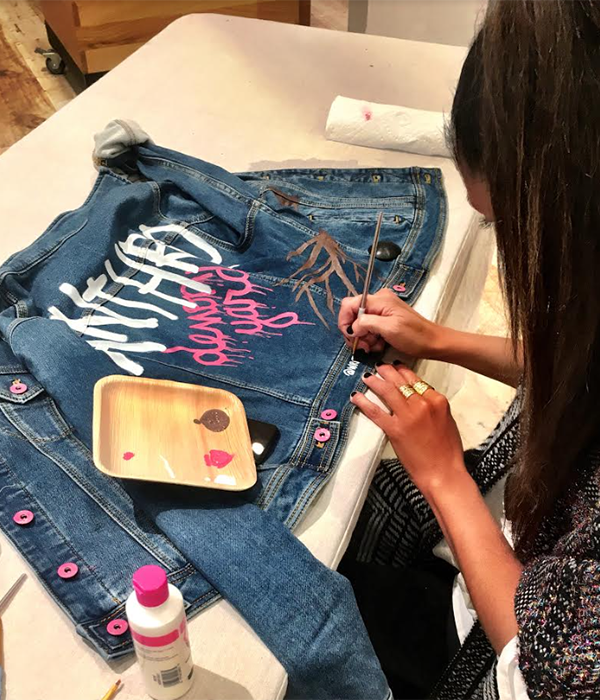 Created by US!
All of our pieces are designed by Gloria & Renee (we're a women-led brand!) AND
each original is designed by Gloria and painted by local artists, order by order. 
we create whatever inspires us..  We drop collections  monthly + surprise drops every few weeks (so stay tuned…)
each & every Collection is available for a Limited Time only!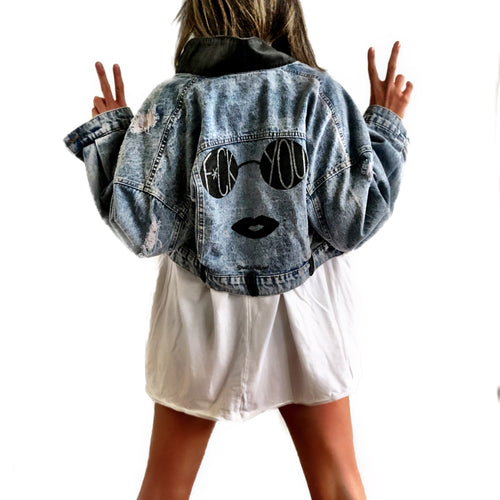 With a focus on Quality & Sustainability.
Everything we offer is literally a piece of art. We use only the finest quality for our canvases. 
unlike fast-fashion, your purchase helps support a sustainable product AND employs local artists.
by making-to-order, we produce no waste
we source only premium denim & paints
luxury quality +  hand-painting ensures your purchase is guaranteed to last for years to come.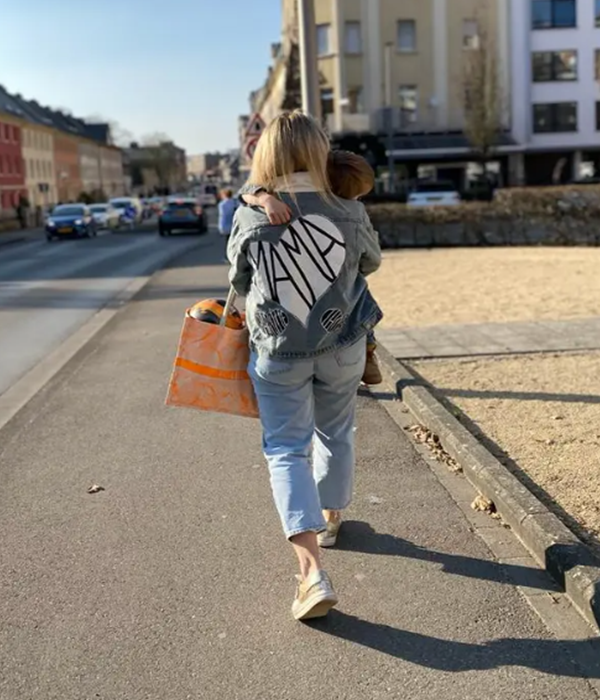 Don't take our word for it.. check out our 1,500+ 5 Star Reviews!
"I love the last piece that I purchased! Quality is amazing, artwork is unique and I always get compliments - especially when wearing the denim jackets. I highly recommend this brand."

BETH K.