Send us YOUR FAVORITE bag, and we'll create a one-of-a-kind work of art
PROCESS

Designing your bag with us is simple: 
Place your order :). Add some guideline for the type of design you'd like us to paint. You can be as detailed as you'd like, or if you'd like for us to come up with some ideas, mention that as well!
Once the order is received, an artist from our Custom Designing team will reach out with any questions or comments.
We will then get you a sketch. Your can provide as many edits needed until we get the sketch perfect for you!
Once it's approved we'll send you a shipping label, and paint the jeans.
EACH PIECE IS MADE TO ORDER, HAND PAINTED BY GLORIA & TEAM IN THEIR STUDIO.
INFO
Please allow 2-3 weeks for your custom. Once we have a finalized sketch, it usually takes about a week to get the jacket made and shipped.
If you need help with design, just write that in the 'details' form a member of the team will reach out and assist.
We want to make sure you LOVE your jacket. If for any reason there is any issue with the final product, just let us know and we'll do our best to resolve the issue.
Please note, images above are just some examples of prior custom pieces. you can refer to those, or do any design you would like!
If you have any questions at all, feel free to reach out! We're here to help :)
DENIM, COTTON AND CANVAS:

We recommend spot cleaning when possible. To wash the full piece, simply put in the machine, inside out, and hang dry.

LEATHER:

We recommend taking your leather pieces to dry cleaners, like you would with any other leather clothing.

SHIPPING

We offer free US Shipping on all orders. International order shipping charges will be calculated at checkout. All orders are shipped via FedEx.

We include the cost of taxes and duties with shipping at checkout, so you won't need to pay any additional fees later on.

We also give you the option to just pay shipping up front for international orders, but you will be responsible to instead pay any duties and taxes directly to our carrier to release your order from customs. If you choose this option and refuse your package, we will charge a 20% restocking fee.

RETURNS

In the US, we accept easy returns and exchanges within 14 days of delivery, as long as the piece was not personally customized. Pieces must be in original condition and unworn. Simply follow our 'Return' link to begin your retrun.

We do not offer free return or exchange shipping from international locations. Please email support@wrenglory.com to begin your International return. We will accept international returns and issue a refund once we receive those goods.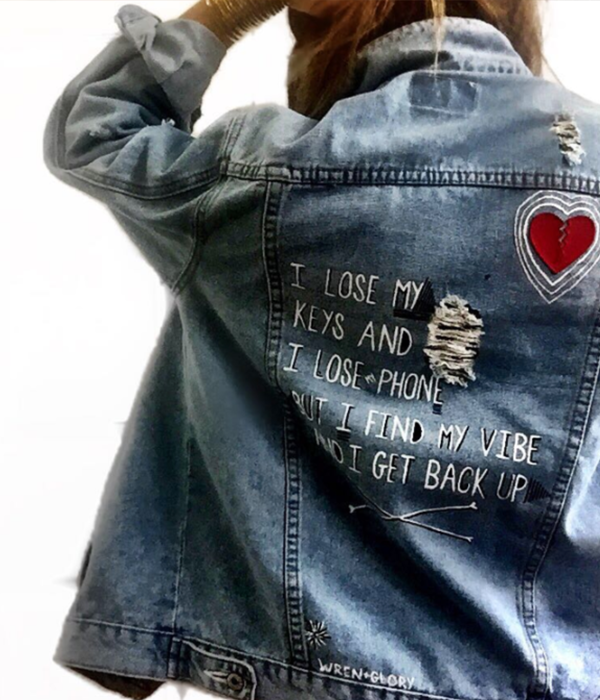 Designed for You!
At Wren + Glory, art is fashion. Each piece is:
designed with YOU in mind. 
unique to your style, your voice, your message, your personality, your passions.
a canvas to stand out in this noisy world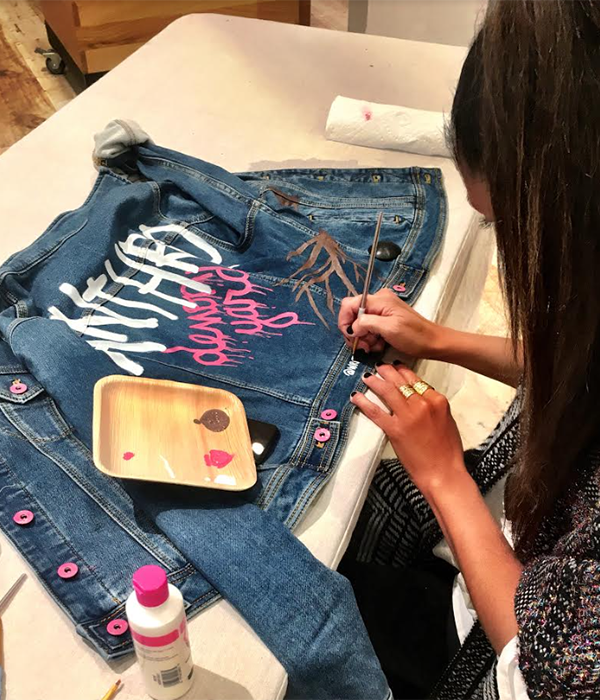 Created by US!
All of our pieces are designed by Gloria & Renee (we're a women-led brand!) AND
each original is designed by Gloria and painted by local artists, order by order. 
we create whatever inspires us..  We drop collections  monthly + surprise drops every few weeks (so stay tuned…)
each & every Collection is available for a Limited Time only!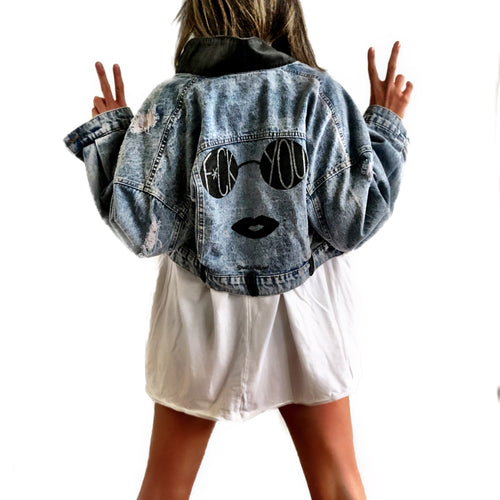 With a focus on Quality & Sustainability.
Everything we offer is literally a piece of art. We use only the finest quality for our canvases. 
unlike fast-fashion, your purchase helps support a sustainable product AND employs local artists.
by making-to-order, we produce no waste
we source only premium denim & paints
luxury quality +  hand-painting ensures your purchase is guaranteed to last for years to come.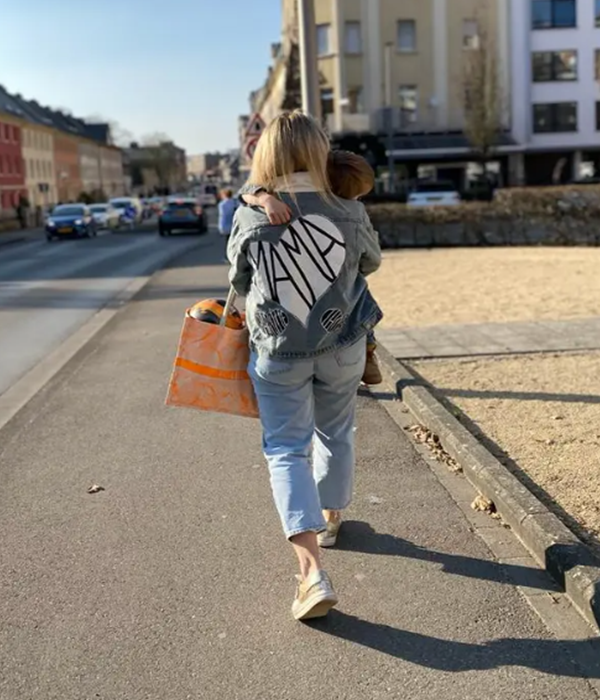 Don't take our word for it.. check out our 1,500+ 5 Star Reviews!
"I love the last piece that I purchased! Quality is amazing, artwork is unique and I always get compliments - especially when wearing the denim jackets. I highly recommend this brand."

BETH K.