DESCRIPTION
EACH PIECE IS MADE TO ORDER, HAND PAINTED BY GLORIA AND HER TEAM IN THEIR NYC STUDIO
PRODUCT DESCRIPTION
Oversized, grey, crewneck sweatshirt.

'SOCIALLY DISTANT BEFORE IT WAS COOL' painted on the back in white.

'Back Up' painted in black, small font on front upper chest.
Signed @wrenandglory.
Due to each piece being hand painted, each piece might have slight differences.
Please note - this style is cut for an OVERSIZED fit. 
FIT
Comfy, slouchy, OVERSIZED fit.

Batwing sleeves.

Model 5'4, about 115 lbs.
MEASUREMENTS:




MEDIUM: Bust 96, Length 65cm-75cm, Shoulder 70cm, Sleeve 45cm



DESIGNER'S NOTES
Everyone needs a W+G painted sweatshirt. Adds a bit of class to your casual, comfy outfit, without even trying. 
DENIM, COTTON AND CANVAS:

We recommend spot cleaning when possible. To wash the full piece, simply put in the machine, inside out, and hang dry.

LEATHER:

We recommend taking your leather pieces to dry cleaners, like you would with any other leather clothing.

SHIPPING

We offer free US Shipping on all orders. International order shipping charges will be calculated at checkout. All orders are shipped via FedEx.

We include the cost of taxes and duties with shipping at checkout, so you won't need to pay any additional fees later on.

We also give you the option to just pay shipping up front for international orders, but you will be responsible to instead pay any duties and taxes directly to our carrier to release your order from customs. If you choose this option and refuse your package, we will charge a 20% restocking fee.

RETURNS

In the US, we accept easy returns and exchanges within 14 days of delivery, as long as the piece was not personally customized. Pieces must be in original condition and unworn. Simply follow our 'Return' link to begin your retrun.

We do not offer free return or exchange shipping from international locations. Please email support@wrenglory.com to begin your International return. We will accept international returns and issue a refund once we receive those goods.


Customer Reviews
Write a Review
Ask a Question
Filter Reviews:
sweatshirt
compliments
customer service
material
company
experience
weight
fabric
purchase
pieces
11/18/2021
Sherry S.

United States
Best shirt ever!
The fabric wears super well…no itchy tags and feels great on the skin. The slouchy fit is perfect and comfy for so many things and of course the statement gets comments and laughs galore.
03/26/2021
Carolien S.

Belgium
02/12/2021
Deanna

United States
01/05/2021
Lisa G.

United Kingdom
Great service
All good. I already had one of these and bought one for my sister in law for Xmas. She loves it! Company great to deal with.
11/30/2020
Chrissy

United States
Very cute, but shipping took forever!
I love this shirt, it's really cute & I've received several compliments on it! My friends keep asking where I got it from & I know at least one of them has purchased her own b/c of my recommendation. The weight of it is in between a shirt & a sweatshirt, which I wasn't expecting. It is nice for a cool day, but not a cold day. However it's very roomy so you could definitely layer some pieces with it for warmth. The size is slightly more oversized than I imagined. I'm a size 10 & ordered a large & I felt like I could have sized down & still have an oversized look. The only downside — it took 2 months to receive! I live in California, not outside of the US, so I was surprised by the wait time. I ordered at the very beginning of August & didn't receive it until the beginning of October — a full two months. This was also after having to email the company twice to see when it would arrive. The first time after a months wait I emailed them & they said it was being painted & would ship out the following week. Then 3 more weeks went by without a shipping notification. I finally followed up again to see what was going on & didn't receive a response to my email but my garment was fedex'd the next day. I'm glad it shipped out, but it would have been cool to receive an email with any response as to why it took as long as it did. On the website it stated that it would take 1-2 weeks, then add an additional week due to covid — mine took two months! Also, the weird thing is the website said the sweatshirt was "in stock," so I was assuming that meant it already had been painted. I get that they're hand painted but I'm also an artist & I know that painting words on a garment doesn't take too long. If I had ordered an intricate jacket I could completely understand it taking 2 months, but mine was a simple sweatshirt. In 2020 when so many of us are unemployed & deciding where to choose to spend our money, customer service matters, especially at this price point. It would have been nice to have some sort of email back to me, explaining why it took so long. My friend who ordered her sweatshirt because of my recommendation got hers in less than two weeks! I just felt like my ordered seeped through the cracks, which is fine, I'm not a difficult customer but an apology goes a long way. Also transparency matters, if I should always expect my orders to take 2 months than I will order a sweater for Christmas in October. But it doesn't seem like that's the case since my friend received hers so quickly. I love the designs, but I'm reluctant to order again because of how it took.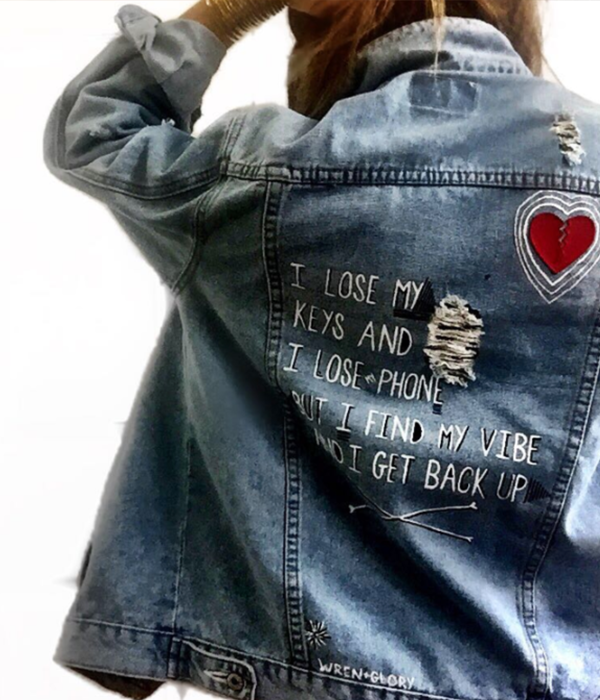 Designed for You!
At Wren + Glory, art is fashion. Each piece is:
designed with YOU in mind. 
unique to your style, your voice, your message, your personality, your passions.
a canvas to stand out in this noisy world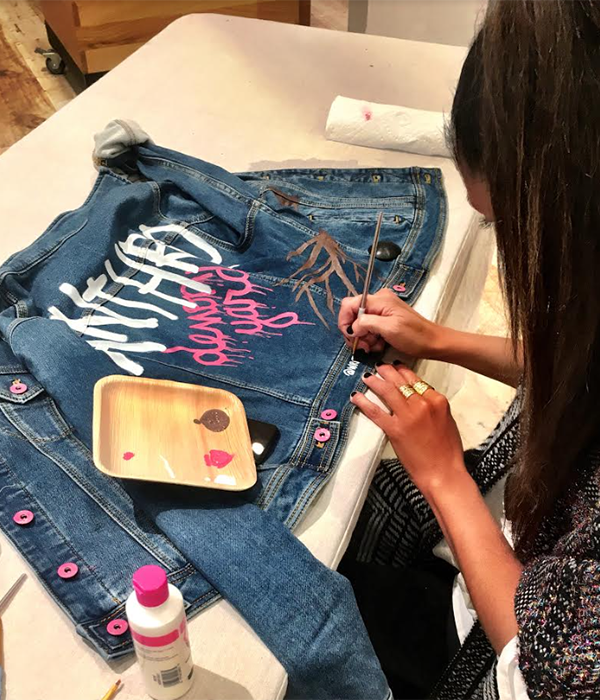 Created by US!
All of our pieces are designed by Gloria & Renee (we're a women-led brand!) AND
each original is designed by Gloria and painted by local artists, order by order. 
we create whatever inspires us..  We drop collections  monthly + surprise drops every few weeks (so stay tuned…)
each & every Collection is available for a Limited Time only!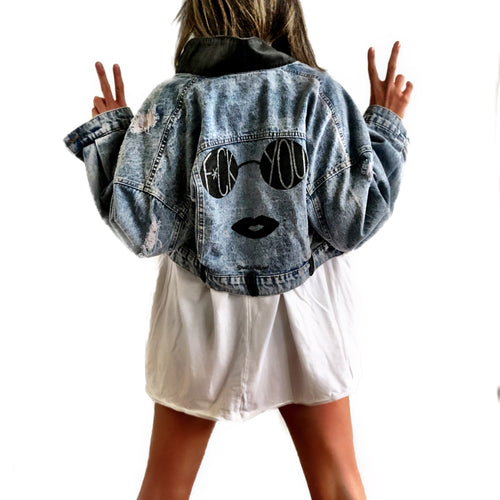 With a focus on Quality & Sustainability.
Everything we offer is literally a piece of art. We use only the finest quality for our canvases. 
unlike fast-fashion, your purchase helps support a sustainable product AND employs local artists.
by making-to-order, we produce no waste
we source only premium denim & paints
luxury quality +  hand-painting ensures your purchase is guaranteed to last for years to come.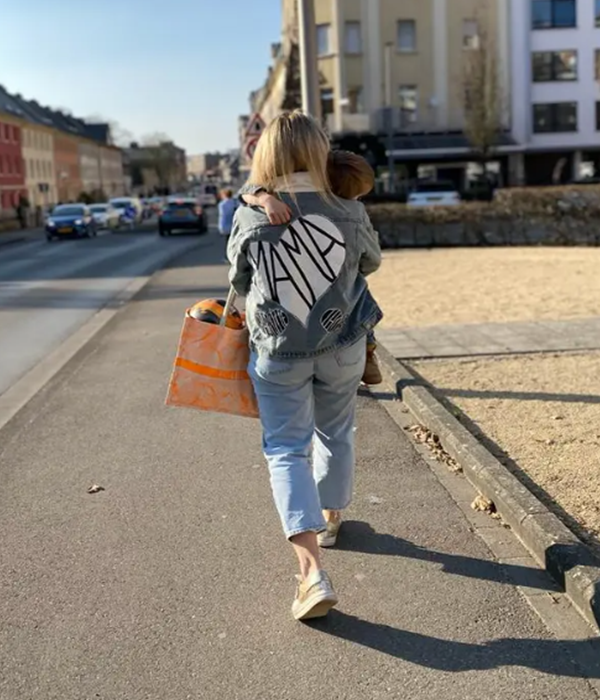 Don't take our word for it.. check out our 1,500+ 5 Star Reviews!
"I love the last piece that I purchased! Quality is amazing, artwork is unique and I always get compliments - especially when wearing the denim jackets. I highly recommend this brand."

BETH K.